About us
We are a small and friendly workshop situated in a crescent of shops with plenty of free parking. We offer a bespoke service from consultation to measurement and design ideas to hanging the finished curtains and blinds.
Our workshop allows you to see your order in progress. We have hundreds of fabric books from known designers to small independent and more mainstream fabric houses. You are welcome to come and browse through them with or without our help. We can supply you with samples and offer a more personal experience then larger stores.
We can supply wooden and metal poles with numerous finials and bracket options and we also offer an effective pole and track fitting service.
If you make your own curtains then we can supply you with all that you need from fabric, linings to buckrums and threads. We are happy to make curtains from your own fabrics or to make alterations to your current curtains for you.
come and find us...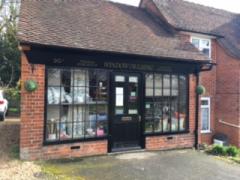 Our opening times are:
Monday         9.30 am to 1.30 pm
Tuesday        9.30 am to 1.30 pm
Wednesday    by appointment
Thursday       9.30 am to 1.30 pm
Friday           9.30 am to 1.30 pm 
Saturday       by appointment